BASIC INFO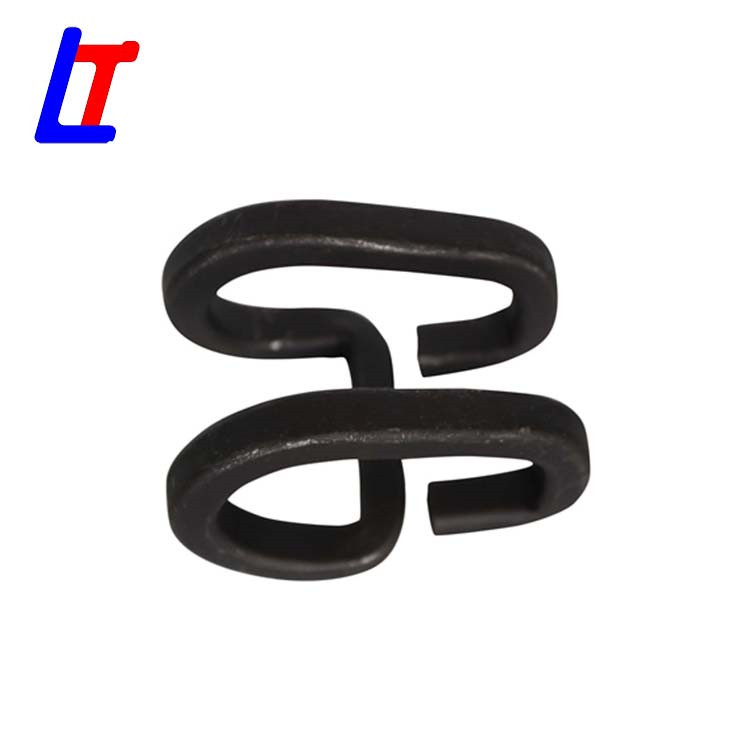 Rail elastic clip is used to fasten the rails to the underlying base plate together with the concrete sleeper. Usually rail clips are made of forged spring steel which is produced by hot forging process. Because of the uniform microstructure of forged clips, it is considered to be better than other metal forming process.
LT Factory offer an extensive range of rail clips with optimum quality, these rail clips are designed with high precision and made up of premium grade spring steel. LT Factory has been the largest and most competitive production base of rail clip in China over 42 years' rail clip producing experience, and have qualification to tender nationally large and medium scaled rail projects. What's more, our rail clip can be customized according to clients' requirements.
Pandrol(E-clip,Fast clip)&Vosshol(SKL clips)&nabla clip are very famous in the world with high quality,Linzhou Public service railway Equipement Manufacturing can provide Oem Service,and the rail clips as below.
Item No
Material
Diameter
Clip length
Clip width
Weight
HRC
Pressure
Fatigue Test
Countries
E1,E2,E3
60Si2Mn
ø18





0.8
44-48

≥9.5KN

5000000 times without break

China
E1609
60Si2Mn

ø18

93±3



0.43
44-48

≥9.5KN

5000000 times without break

Southeast Asia

E1809
60Si2Mn

ø18

104±3



0.62
44-48

≥9.5KN

5000000 times without break

UK,European
E1817
60Si2Mn

ø18

104±3

37.5±3.0

0.62
44-48

≥9.5KN

5000000 times without break

E2001
60Si2Mn

ø18





0.6
44-48

≥9.5KN

5000000 times without break

africa
E2007
60Si2Mn

ø18

105±5

38max

0.62
44-48

≥9.5KN

5000000 times without break
Korea

E2009
60Si2Mn

ø18

106±3

37.5

0.65
44-48

≥9.5KN

5000000 times without break

Brazil,America
E2055
60Si2Mn

ø20

106±3

56.6±3.0

0.8
44-48

≥9.5KN

5000000 times without break

Africa,EU,America,brazil
E2056
60Si2Mn

ø20

106±3

56.6±3.0

0.8

44-48

≥9.5KN

5000000 times without break

Africa,EU,America,brazil

E2063
60Si2Mn

ø20

110.5
53.5

0.8

44-48

≥9.5KN

5000000 times without break

Russia

PR309
60Si2Mn

ø19

130


0.91

44-48

≥9.5KN

5000000 times without break

Russia

PR401
60Si2Mn

ø20

127±3

38.1±3.0

0.97

44-48

≥9.5KN

5000000 times without break

Russia

PR601
60Si2Mn

ø19





0.8

44-48

≥9.5KN

5000000 times without break

Russia

PR85
60Si2Mn

ø19

88±3



0.8

44-48

≥9.5KN

5000000 times without break

Russia

PR415
60Si2Mn

ø20





0.8

44-48

≥9.5KN

5000000 times without break

Russial

PR601
60Si2Mn

ø20







44-48

≥9.5KN

5000000 times without break

Russia
DI
60Si2Mn
ø18

100±3




44-48

≥9.5KN

5000000 times without break

China
E18
60Si2Mn

ø18

100±3





44-48

≥9.5KN

5000000 times without break

Africa,EU,America,brazil

E19
60Si2Mn

ø18

100±3





44-48

≥9.5KN

5000000 times without break

Africa,EU,America,brazil

E20
60Si2Mn

ø18

100±3





44-48

≥9.5KN

5000000 times without break

Africa,EU,America,brazil

SKL1
60Si2Mn

ø13

133±2.3



0.48
44-48

≥9.5KN

5000000 times without break

America,brazil
SKL3
60Si2Mn

ø13

120±2



0.48
44-48

≥9.5KN

5000000 times without break

America,brazil

SKL12
60Si2Mn

ø13





0.53
44-48

≥9.5KN

5000000 times without break

America,brazil

SKL14
60Si2Mn

ø13

155±2



0.53
44-48

≥9.5KN

5000000 times without break

America,brazil

Fast Clip-1508
60Si2Mn

ø15





0.58
44-48

≥9.5KN

5000000 times without break

Africa,EU,America,brazil

Fast clip-1501
60Si2Mn

ø15





0.58
44-48

≥9.5KN

5000000 times without break

Africa,EU,America,brazil

Fast Clip-16
60Si2Mn

ø16





0.6
44-48

≥9.5KN

5000000 times without break

Africa,EU,America,brazil