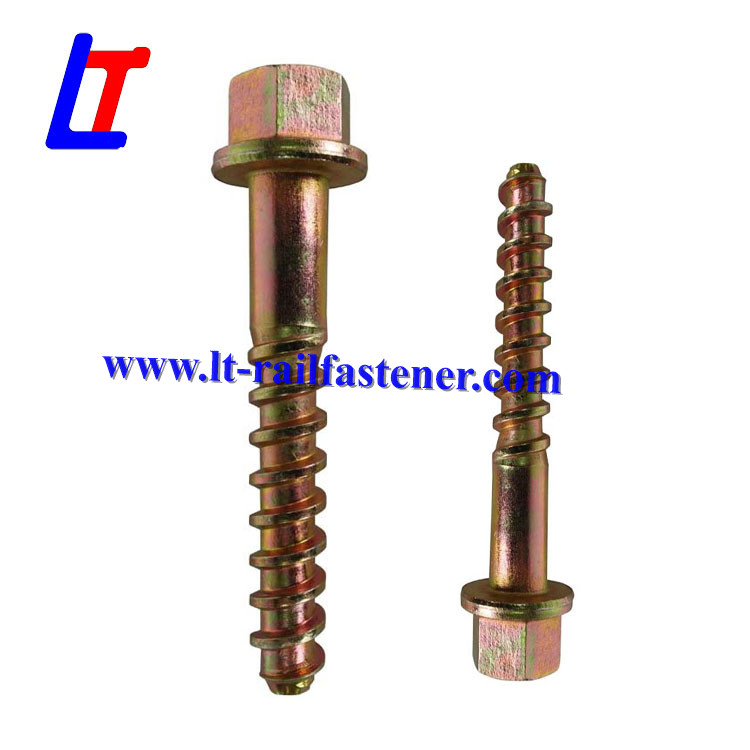 BASIC INFO
Rail Screw Spike, Sleeper Screw
We produce a rail screw spike, sleeper screw for The United States according to ASTM A66-87. Its tensile strength is 414 Mpa, its yield strength is 207Mpa and its elongation 2" is more than 18%. It can be bended in cold to 90° without cracks.
Our rail screw spike, sleeper screw has a diameter of 3/4", 7/8" or 15/16". Its length varies from 5-1/2", 6", 7", 8" and 10".
We produce the following types of rail screw spike, sleeper screw for South America, i.e., Brazil, Peru, Chile, and Argentina.
Dia. 24mm x 185mm long
Grade 4.6
Dia.24mm x182mm long
Grade 4.6
Dia.1"x5-1/2" screw spikes
Dia. 23mm x115mm screw spikes
Middle carbon steel 1035 is used.
Length could be made as 105mm or 125, 135mm.
We produce Ss series sleeper screw, the range is from SS5, Ss8, Ss23, Ss25, Ss34, Ss35, Ss36, and DHS 35 with firm materials, according to UIC864-1, grade from 4.6 and 5.6.
We also produce AS, M H type screw spike for the UK and H, i, c, v type screws according to MAS.
We produce 3V sleeper screws according to NF F50-006. Our 3V sleeper screws can be made to class 4.6 or class 5.6. Its mechanical properties are in accordance with UIC864-1 standard.
As a professional rail screw spike, sleeper screw manufacturer in China, we not only provide rail screw spike, sleeper screw, but also elastic rail clip, rail spike and other rail fastening. Our products are in accordance with ASTM and DIN standards. To make us more competitive in the market, we also offer rail joint bars, tunnel construction bolts, etc. OEM service is available upon request. If you have an interest in any of our products, please contact us at your earliest convenience. We look forward to hearing from you.